Meeting
Unique natural environment primed to focus on your group's meeting, social events and fun...
Our unique setting, offering the ideal location for professional, academic and faith-based programs, naturally draws the visitor to Santa Cruz. Our experienced coordinators are committed to providing assistance for all of your conference planning needs by providing a wide variety of services and ensuring a successful program. 
Youth Programs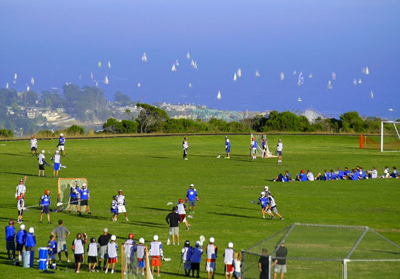 All West Lacrosse
From academic outreach, to leadership training, to sports camps, UC Santa Cruz is committed to youth programs and we provide a comfortable and stimulating setting for your chosen summer activities. Our experienced staff will work closely with you in all phases of your conference planning.
A variety of classrooms, casual meeting rooms, recreation facilities, and other outdoor settings are available. UCSC offers affordable conference rates, which include three meals per day in our dining halls.
A minimum of 1 staff to 10 youth is required, and staff must accompany youth on campus at all times. Supervising staff must be at least 21 years of age (Policy Handbook).
Adult Programs
UC-HiPACC Journalism Boot Camp
on Computational Astronomy. © Trudy E. Bell
UCSC hosts a diverse group of adult conference groups each year. These groups range from 30-500+ using a variety of meeting spaces, from lecture halls for up to 479 to small, intimate spaces and everything in between. We also boast some of the most stunning views of the Monterey Bay to be found. Please let us show you what our unique campus can provide for your meetings and events.

Additional Information
Our affordable conference rates include three meals daily in a dining hall and a campus parking permit.
The current conferences page lists the programs being held at UCSC during summer. 
Would you like more information? Contact us with your specific questions.